Our top-rated picks for beginners or for quitting smoking. Would you like to quit smoking? Maybe you're simply looking to cut back. Or maybe it's something else. Whatever your reason, this page of best vapes and starter kits is here to help. You won't be bombarded with a long list of complicated products. And you won't need to know any vape lingo to understand. We kept it simple. The starter products on this page can have you vaping seconds after opening the package. 
   
Why vaping?
Vaping looks and feels like smoking. It should! Vaporizers, originally called e-cigarettes and then vape mods, were designed as an alternative to smoking cigarettes. Vaping offers you a familiar way of getting nicotine — which gives it the edge over other nicotine replacement therapies. Other benefits of vape kits include the ability to control your nicotine intake, the absence of toxic odors and second-hand smoke, and, because there's no tobacco on fire, carbon monoxide and tar are absent too.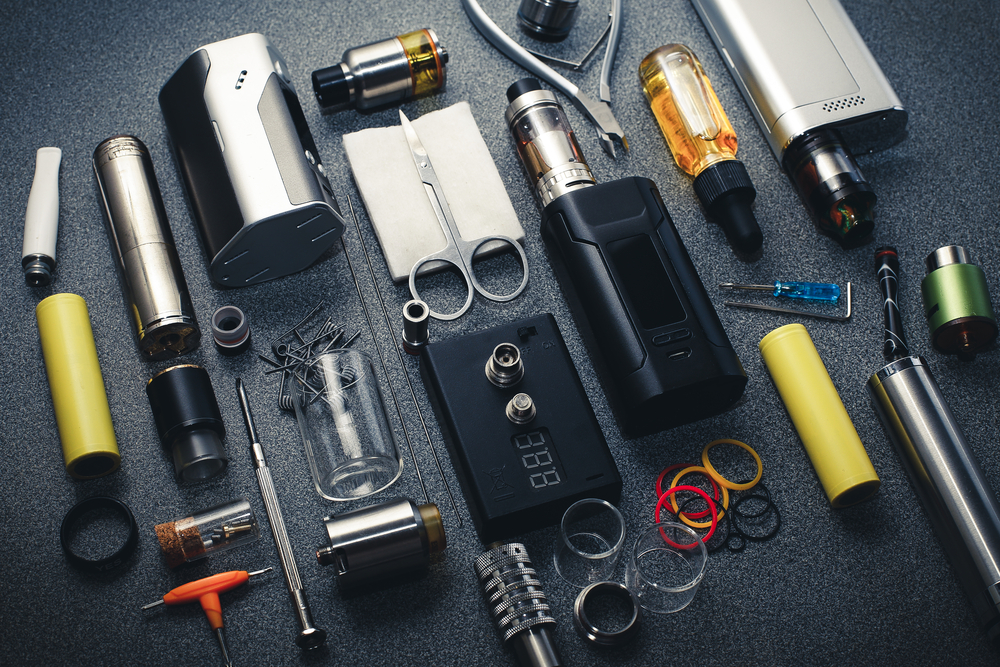 Vaping is becoming more popular every day. Users have many options if they want to start vaping, but e-cigarettes are the most common. They are also known as cig-a-likes, as they look and feel like a regular cigarette. Vape pens and mid-size mods are also e-cigarettes. Starter kits also feature simple vaping devices, with extra batteries and tanks included. All e-cigarettes use an atomizer to heat and vaporize e-juice with nicotine and without nicotine. Disclosure: The e-cigarettes which we review on this website are tested by our trained paid staff. As part of the review, VapesNational.com links directly to the product or brands so that you may purchase directly from the provider. We receive commissions from these providers, however, this does not affect the price you pay, and the commissions we earn help us pay for the costs of running this website. VapesNational is not intended for use by individuals under eighteen (18) years of age.
back to menu ↑
Best E-Cigarettes and Starter Kits
Our list of best e-cigs for 2019 features several types of products, from best cigalikes and pod systems to e-cig starter kits. Each of the products is clearly marked so you will know if it's intended for smokers, beginners, those looking for big clouds, or for someone else.
E-cigarettes can look complicated, but if you know what you're looking for, everything falls into place. Your choice will depend on your personal habits and wishes – are you looking to replace two packs of cigarettes that you smoke per day? Or are you in it for the flavor and the vapor production? Maybe you are just looking for value for money because you don't intend to use your e-cig regularly?
Answers to all those questions are in this new buyer's guide. Each product is clearly categorized and described. We've kept those descriptions short and to the point so that we don't over-complicate your search for the best e-cigarette. Take a look at the featured products and choose the one that you think is best for you!
The rise in popularity of vaping means more choice than ever when it comes to e-cigarettes. This is great news since it means that there really is an e-cig out there for every taste. Whatever a vaper is looking for in a vaporizer these days, they can easily find.
back to menu ↑
KILO 1K REVIEWS
BY KILO E-LIQUIDS
Over a dozen flavors
Warm vapor
Low odor
Discreet size
The Kilo 1k is a skinny and lightweight device made from a popular e-liquid vape brand. This vape has more flavor options than any other on this page. If you're the type that likes to try more new flavors, the Kilo 1k is your pick.
The Kilo 1K is a well-built vape. It weighs only 26 grams, but it feels like it has some substance to it. The finish on the Kilo 1K is a black rubberized coating over zinc alloy that feels secure in the hand while also being pleasant to grip.
Features Kilo 1k
Liquid capacity: 1.5 mL
Pods per pack: 4
Nic strength: 4.5%
Battery capacity : 350 mAh
Use while charging: No
Vapor production: Low
Weight: 26 g
Our testers all agree, the Kilo 1k has the best variety of flavors. Each flavor has a noticeable hit of nicotine, and it's smooth. With over a dozen flavors to choose from, it's almost a given to find something you're interested in. Everything from desserts to tobaccos to mentholated fruit flavors. One of our favorites of the whole line is a flavor called Nutty. It's a classic dessert flavor of vanilla and almond.
Using the Kilo is convenient and simple. Just place a magnetized pod into the battery and puff on the ergonomic mouthpiece. A battery charge can last almost all day, but it takes a little over an hour to charge. Unfortunately, the Kilo 1k can't be used while charging.
back to menu ↑
APOLLO BREZ
BY APOLLO E-CIGS
8 flavors
Multi-flavor pack in kit
Low odor
Two nicotine levels
The Apollo Brez is minimal in design and big on flavor. It's a slender and pocketable vape made for ease of use. The Apollo Brez is the only vape on our list with an option for a multi-flavor pack and a lower option for nicotine. This is a huge advantage if you want to sample flavors and strengths but don't want to buy several packs!
The Brez pods come in 2.5% and 5.0% nicotine strength, and they each contain 1 mL of liquid. Although that's lowest amount on our list, the pod packs contain 4 replacements.
The Brez Deluxe Kit ($39.95) comes with a battery device, a proprietary USB charger, and 5 flavors plus your choice of nicotine strength. The flavors are Berry Blend, Melon, Tobacco, Breeze (menthol), and RY4 (tobacco, caramel, and vanilla). Each flavor can be purchased separately ($19.95).
Features APOLLO BREZ
Liquid capacity: 1.0 mL
Nic strength: 5.0%, 2.5%
Pods per pack: 4
Battery capacity: 320 mAh
Use while charging: No
Vapor production: Low
Weight: 17 g
The Brez delivers some of the best flavor on our list. It doesn't have as many choices as the Kilo 1k, but the flavors of the Brez are more pronounced. Our testers were unanimous in voting the RY4 (tobacco, caramel, and vanilla) flavor as the favorite of the lot. All the other flavors got positive comments for accuracy of taste, but the flavor to beat is the RY4.
The vapor from the Brez is moderately warm and it has a soft hit and pleasant hit. The draw is like a cigarette but a little looser, which makes it much easier to drag on than the Vuse Alto. Even at 5.0% nicotine strength, it doesn't feel much stronger than the Vuse Vibe which is 3.0%. If you want to get more nicotine without the hit feeling too strong, the Brez won't disappoint.
The battery life of the Brez is a bit lower than some of our other recommendations. And you can't vape the Brez while it charges like you can with the Alto. If you use the Brez moderately, you can get close to a full day on a charge and still have many puffs left in the pod. If you use it a lot, you'll likely use one pod per day and have to charge it twice per day. So for this style of vape, we find the better value to be the Kilo 1k, but the Brez slightly edged a win in flavor (mainly because of that RY4).
back to menu ↑
LOGIC PRO Review
BY LOGIC VAPES
Warm vapor
Medium nicotine hit
Low odor
Classic vape pen style
The Logic Pro is a quality starter kit for beginners. Designed like a classic vape pen, the Logic is dependable and secure. It vapes quietly and it's leak free. Plus, it's slender and pocketable size make it handy and easy to carry. It takes prefilled flavor cartridges that hold 1.5 mL of liquid, and they come in two nicotine strengths: either 1.8% or 2.0% nicotine.
The Logic Pro is sold in a kit with the 7 different flavor cartridges (called capsules) separately. You'll need the Logic Pro Vaporizer kit, which comes with a proprietary charger and an instruction manual for $24.99. Your choice of liquid flavor capsules come in packs of two, and they retail for $7.99 per pack. This is one of the most economical starter kits on this page.
Features LOGIC PRO
Liquid capacity: 1.5 mL
Nic strength: 1.8%, 2.0%
Pods per pack: 2
Battery capacity: 650 mAh
Use while charging: No
Vapor production: Low
Weight: 40 g
The Logic Pro flavors taste authentic and yet subtle enough to not over-power your taste buds. The vapor is on warm and it has an easy draw that's not tight like others on this page. This device makes about as much vapor as a cigarette makes smoke. With low vapor production, you won't have to worry about drawing unwanted attention to yourself.
Users new to vapes will have no problems getting used to the Logic. The Logic Pro uses a button-activation so the user can control the power of the device, which makes it safer for travel. The included instruction manual lays out everything simply and clearly. With just a quick read, you can use the device within little to no time after opening the package.
back to menu ↑
Mig 21 Clear Fusion E-Cigarette Starter Kit Review
Pros:
Throat hit is great
Comes in nice and different choice of colors
The tanks have a capacity of 1.3mL
Cons:
The battery is in the longer side
The Mig 21 Clear Fusion is a stylish e-liquid electronic cigarette with a sleek refillable clear fusion tank system. Its battery is able to push 4.2 volts – giving you the power you need for that satisfying vapor of your desire. The battery is available in a plethora of color choices: stainless steel, black, white, and metal rainbow.
The e-cig can be filled with nicotine salts juice or standard juice. It also comes with a special e-cigarette carrying case that's available in black or cheer red. The USB cable together with a wall adapter, as well as 3 1.3mL tanks, comes in the kit — providing one with enough of everything for them to vape whenever they want to.
The tank is refillable and capable of up to 21 refills before a replacement is needed. To fill it, the mouthpiece must firstly be removed, and the small holes on the side of the middle post must be located.
The Mig 21 Clear Fusion has a 380mAh battery. The battery could last up to 9 hours and the heat up time takes only about 2 seconds.
back to menu ↑
Morpheus E-Cigarette Kit Review
Pros:
Portable and appealing design
Has 2 choices of coils: 0.2 or 0.4 Ohms
Has the ability to hold up to 3mL of e-juice
Good power output combined with long battery life
Versatile 510 spring-loaded connection
Cons:
The power output could impact battery life
The Morpheus delivers the ultimate vaping statement. Its tank has a 3mL capacity that shows off with its lightweight carbon fiber body and sleek design. Its stainless steel tank mouthpiece has a built-in airflow control and instantly readjusts to give one the perfect vaping power output.
A pack of multicolored rubber seals is also included to protect the battery's body throughout its lifetime. The device also features OCC Kanthal wire vertical coils. Using it is simple, and lets one get perfect clouds every time.
Depending on the user's preference, they can use 0.2 or 0.4 Ohm coils – allowing for a customizable vaping experience. The Morpheus e-cig automatically adjust to the coil resistance, eliminating the need to worry about knowing the perfect settings.
The Morpheus has an incredible 100 watt 3000mAh battery that has a spring-loaded 510 connector – giving maximum life and power at such a small size.
back to menu ↑
The Blu Xpress Kit
Pros:
Good compact size
Easy-to-use
Long-lasting battery and cartomizer
Good vapor production
Several flavor options to choose
Cons:
The blu+ Express Kit is an e-cigarette with a removable, disposable cartomizer and a small-capacity battery. The cartomizers come in nine different flavors ranging from Polar Mint, Carolina Gold and Gold Leaf. The liquid nicotine inside the pods can either come in 1.2% or a stronger 2.4% content.
The design of the cig-a-like is simple. The entire kit comes with a battery, a single flavor cartomizer, and a USB charger to recharge the battery. The charger can fit into any compatible USB port for quick, convenient charging.
The entire device is draw-activated, and there are no buttons anywhere on the unit. Users inhale to start the vaporization process. The liquid cartomizers can last for around 300 or 400 puffs, which is average for these kinds of devices. Charging a depleted battery takes about an hour. The light on the charger will turn red when charging and blue when it is done. The battery itself can last for over 1,000 charges.
back to menu ↑
VAIO GO Review
Pros:
Stylish, compact design
Adjustable airflow
Two different mouthpieces (DL and MTL)
Two atomizer coils (DL and MTL)
Large e-juice and battery capacity
Cons:
Glass piece breaks easily
Low vapor production
The VAIO GO is a pen-style vaping device for e-liquids. The unit features a 2000mAh built-in battery and uses a tank that has a 3ml e-juice capacity.
The tank is also built into the unit. There are two different mouthpieces in the kit, one for direct-lung vaping, and the other for mouth-to-lung. The top cap features adjustable airflow control.
There is a glass section where vapers can gauge their e-juice levels. The coils for the Go are also divided between sub-ohm and above-ohm vaping. One coil can vape at a 1.5ohm resistance. The other coil is for direct-lung vaping and has a resistance of 0.5ohms.
The entire unit consists of a sturdy metallic build, with one power/firing button on the front. The battery uses USB charging through the USB port on the bottom.
back to menu ↑
PHIX Starter Kit
Pros:
Beautiful, diamond-shape exterior
Soft-to-touch, but a durable ceramic surface
Draw-activated (no buttons)
Long-lasting pod and battery life
Cons:
Pods are not refillable
Buying new pods starts to add up
The Phix from Major League Vapers is a closed system pod device. The battery section takes only pre-filled pods, of which there are four different flavors.
The pods can each hold about 1.5ml of e-juice. The Phix battery has a 280mAh capacity. The coil resistance of the pods ranges between 1.4 and 1.5ohms.
The device itself has a diamond-shaped profile. Its exterior build consists of ceramic, which makes the device easy to grip, and slip-free. The wicks inside the pods are also ceramic and deliver a clean, pure vapor.
A fully charged battery can power the Phix for 220 puffs. A pod can last for anywhere between 400-440 puffs. Vapers can choose from four different flavors for the Phix.
back to menu ↑
Magnum Snaps E-Cig Starter Kit
Pros:
Slim, compact and elegant design
A secure magnetic connection between two parts
Empty tanks available
Good throat hit
Quick charging batteries
Cons:
Lack of flavor options
Low vapor production
The Magnum Snaps E-Cig line from ePuffer comes as a starter kit. The kit features two batteries and five flavor cartridges. It also contains two chargers, a USB and a wall adapter. The cartridges are good for at least 300 puffs, depending on usage.
Each battery in the kit has a 220mAh capacity. They measure almost 2.9 inches. Together, the cell and tank section measure close to 4.4 inches, making it very portable. The flavor cartridge uses a magnetic connection to snap to the battery keeping it secure.
There are only two variants of flavor for the flavor cartridges. ePuffer offers either a tobacco or sweet-flavored five-pack of cartridges. There are three nicotine strengths for each flavor, 0mg, 6mg, and 12mg. Users can also choose five-blank cartridges to use their e-juice.
back to menu ↑
Why Choose E-Cigarettes?
Cost Savings
Electronic cigarettes can significantly save cost compared to traditional tobacco. The average cost of a pack of conventional cigarettes varies between $6 and $8, with states like New York having prices as high as $14 per box. At the average cost of $7 per pack, smoker burning a pack a day will spend over $200 per month.
The best bet choosing e-cigs is to buy a complete starter kit. A typical starter kit comes with the electronic cigarette device, cartridges, and a battery charger. Most vape starter kits can be purchased for $30-$50. Having made the initial investment in an e-cigarette, a consumer will spend about $60 per month on e-liquid or cartridges cost. The math is pretty straightforward. Adult tobacco consumers might save by choosing vapor.
E-cigs are a technology, and like any technology, the performance and costs can range. Significant vapor clouds possible, cloud chasers, consume a lot more e-liquid than a regular vaping. The powerful device is the more e-liquid it vaporizes.
Social Benefits
Over time, cigarette smoking has become less welcome and even outlawed in many public places. Although, vaping may be allowed in places where smoking is banned. The recent law updates ban vaping in the same places that smoking is already prohibited. There is some pushback against this trend. Particularly in Britain, where health agencies support allowing vaping on hospital grounds.
Vaping etiquette has been an evolving issue. While the vaping community disagrees with the idea of "bans," there is agreement that mindful vaping is important.
Perhaps the most notable social benefit of e-cigs is the odor.
E-cigarettes do not have any of the unpleasant odor that clings to clothes, hair, and furniture as cigarettes emit. Pair clouds give you benefits of forgetting about a permanent need of breath mint or Purel. And interactions with other people do not involve that voice in your head escalating "do I smell like an ashtray?". Pleasant smell gives benefits to winning people over.
Now that people also understand just how harmful smoking is on the environment, it is yet another reason for it to be no socially acceptable behavior. The reasons to get people to give up smoking seem to be piling up more and more as time goes on.
back to menu ↑
E-Cigarettes Guide
An e-cig is an electronic device that vaporizes e-liquid. The e-liquid contains food-grade ingredients and nicotine. For customers comfort e-cigs come in all shapes and sizes. But ultimately, all e-cigarettes consist of three basic elements:
Let's take a quick look at each of these three components.
The battery may be either rechargeable or disposable type. Most of the best e-cigs today rely on rechargeable batteries.
The atomizer is the heating element that is in charge of vaporizing the e-liquid. An atomizer can be made of any metal including Kanthal, stainless steel, titanium, or nickel. Most atomizers are Kanthal, an alloy designed to withstand high temperatures.
The e-liquid reservoir has different variations. Some e-cigs use cartridges or pods, which are universal components that contain the atomizer and e-liquid in one. Some use a vape tank – a container which you manually fill with e-juice as needed.
E-cigarette use is commonly termed vaping, due to its vapor output. Since the introduction to the market, more than a decade ago e-cigarette usage has globally grown. Though the first-ever electronic cigarette was patented in 1965, it was obscured until Chinese pharmacist Hon Lik's re-invention in 2003.
The evolution of the e-cigarette from such humble beginnings to the high tech devices we use today has completely changed the landscape as we know it. From a niche way to get a dose of nicotine, to a hobby, it has changed quite a bit in the last 15 years.
back to menu ↑
Best E-Cigarette Brands in 2019
Not all e-cig brands are created equal. Some stand out in the sea of brands by constantly focusing on their customers and making quality, innovative vaping products. To learn who they are, check out our top picks in the best e-cigarette brands of 2019 category.
back to menu ↑
How do E-cigs Work?
Inside an e-cigarette, flavored e-liquid – which may or may not contain nicotine – is heated by the atomizer, which converts the liquid into a mist or a vapor the user can inhale. The heat is generated by the power the atomizer draws from the battery. The e-liquid is vaporized by the heat producing vapor.
Power from the battery heats atomizer
The atomizer heats and vaporizes e-liquid
The vapor produced is inhaled by a user
A battery cell powers an e-cigarette. All batteries are not the same! The quality of lithium-ion batteries changes based on the quality of components. The higher is the purity of the lithium metal in a battery, the smoother is the flow of charged particles. A big part of Vapesnational's testing process determining the list of the best electronic cigarettes ensures that the battery quality meets our standards.
The battery is the most integral part of the e-cigarette. Not least of which because it powers the whole operation, but it is the part that can keep the procedure safe, or become dangerous if there is a damaged battery. Whenever a report of an exploding e-cigarette or vape pen is circulated, it is almost always a case of a damaged battery.
The battery connects to the atomizer, cartridge, or tank. The electric resistance of the atomizer determines the amount of power to be drawn from a battery. Some advanced vape mods allow custom setting of the output power. The more power,- the more vapor. But, extra vapor does not necessarily mean more satisfaction. Finding the right e-cig should focus on satisfaction and personal enjoyment.
back to menu ↑
Finding the Right E-Cig
The e-cig industry has grown exponentially in a very short period. And hundreds of companies make hardware and e-liquids. There are US companies and overseas companies. Like any industry, there are contenders and pretenders. Here are a few pointers to help you find the best electronic cigarette for you.
Product Design
The first factor to consider when deciding on buying an electronic cigarette is the design. How big is it? How does it work? Design includes functionality, size, shape, and the overall look and feel of the e-cig. Before making your choice, decide on the importance of convenience vs. performance:
Do you want a 2-piece cig-a-like design?
Do you want a mod that makes more vapor?
That's the two basic questions, especially for newbie vapers. Again, watch a satisfaction. An advanced e-cig can produce more vapor but keep in mind today's 2-piece cig-a-like that can still deliver a satisfying experience. No need for a complex device to enjoy vaping. But you do need good quality.
Performance Level
Performance is a crucial factor to consider when choosing the right e-cigarette. A straight line between quality and performance influences price and user experience. That's a given. Let's take a look what are some other factors that impact performance:
Battery capacity
Power output
Atomizer resistance
Quality of e-liquid
Batteries come in numerous shapes and sizes. Manufacturers describe their batteries by mAh rating. The mAh rating (or milliampere-hours) measures how much energy does the given battery store. The higher is the mAh, the longer it will work after a charge. Batteries with higher mAh tend to be bulkier, so the user will need to choose between a portable e-cigarette with shorter battery life and a larger e-cigarette with longer battery life.
The power output does not influence the capacity of a battery. It depends on the device and the atomizer resistance. A quality device manages the battery well, and carefully controls a power output. With the lower atomizer resistance goes higher power that can be drawn from the battery. By combining low resistance and high power, you get more vapor.
Combining abilities is an important thing to consider while looking for the best e-cigarette. The more vapor a device makes, the more e-liquid you use. When the atomizer resistance is less than 1.0 ohms, that is sub ohm vaping. Sub ohm vaping is a different style than users may be used to. Instead of drawing the vapor into your mouth and then inhale, you directly inhale the vapor into your lungs. This is MTL vs. DL vaping. While sub ohm DL vaping has higher performance, it may not be right for people new to vaping.
Finally, the quality of the e-liquid is a huge factor. This is one of the reasons that Vapesnational has found that the established, American vape companies like V2 and Halo perform so well. In fact, when it comes to e-liquid, you want to rely on certain companies with professional lab facilities staffed by specialists who know their stuff.
Product Quality
Consider the e-cig brand or the supplier's reputation when choosing the product. The reputations for excellence have been established for some brands and manufacturers. A little research can give an idea of what to expect from a company. Look closely at the product warranties. That's a good sign that a company will stand behind its product.
If you are interested in an imported product, make sure to get an authentic version. Counterfeit products are a huge problem right now. That's another reason to buy directly from a US brand. Finally, look for companies that produce e-liquids in a professional lab, not the back room of a vape shop.
Options & Flexibility
Find out your options before you purchase an e-cig. What are the various upgrade options, parts, and accessories offered? If you are not completely satisfied with the device's performance, then having options will ensure managing the best results for you.
Two of the obvious areas of options and flexibility are batteries and atomizer choices. Some of the top-rated e-cigarettes let you experience both standard and sub-ohm vaping. Next, an e-cig with a built-in battery vs. a device with interchangeable batteries. There are pros and cons for all designs, and it boils down to what works for you.
Long-Term Costs
The long-term costs of using electronic cigarettes are the biggest variable in the value equation. Check the prices of replacement cartridges or pods. One more crucial factor hides in how much does coils replacement cost. An essential determinant of Vapesnational's best e-cig ratings is the value factor. We consider the long-term value in our ranking system. An e-cig that burns through e-juice might offer more vapor. Still, it can turn out in a waste of money if you're not into cloud chasing.
back to menu ↑
Side effects of vaping
The potential side effects of using a vape with nicotine is similar to that of using a nicotine inhaler.
Dry mouth
Sore throat
Coughing
Headaches
Dizziness or headrush
Nausea
Tightness in chest
If you are experiencing these issues, or if you just have concerns or questions, consult with your doctor. Nicotine is considered a drug no matter the source you get it from.
back to menu ↑
Vaping vs. Smoking: is vaping safer?
There is a growing debate about the absolute safety of vaping, but there's little question about its safety in comparison to smoking. For instance, Public Health England (PHE) says e-cigarettes are 95% safer than tobacco. PHE is a branch of the Department of Health and Social Care in the United Kingdom.
As a part of their effort to reduce cigarette smoking, PHE produced a short YouTube video of an experiment to demonstrate the visible differences in residue from cigarette smoke vs e-cigarette vapor. It's a stark contrast! The experiment was conducted by Dr. Lion Shahab, a leading smoking cessation academic from University College London, and Dr. Rosemary Leonard, a journalist and general practitioner.
It should be noted that England is much more supportive of vaping than in other parts of the world. But even in the US, the American Cancer Society says, "Based on currently available evidence, using current generation e-cigarettes is less harmful than smoking cigarettes, but the health effects of long-term use are not known."
And that's the thing to remember. Vaping is safer than smoking, but vaping carries its own risks that may not be immediately evident. E-cigarette vaping has only been around for a little more than a decade. The jury will be out for some time until vaping has been around long enough to study true long-term effects. The longest-term information we have on the health of vapers was conducted over a 3.5-year time.
A team of researchers from University of Catania (Italy) and the University of California Los Angeles, led by Dr. Riccardo Polosa, carefully monitored the participants coronary, circulatory, and pulmonary vital signs over the course of 3.5 years.
The scientists measured participants':
Blood pressure
Heart rate
Body weight
Lung function
Respiratory symptoms
Exhaled breath nitric oxide
Exhaled carbon monoxide
High-resolution computed tomography (HRCT) of the lungs
The study concluded that the e-cigarette users had no negative health outcomes based on what was measured, and actually showed results that were virtually indistinguishable from those of the non-users. "Even in the heaviest e-cigarette users (i.e. those with the highest e-liquid consumption and longest vaping history), there was no indication of emerging lung injury as reflected in these physiological, clinical, radiological and inflammatory measures." And the unique aspect of this study was that the participants had never smoked. If they had been smokers, there would've been no way to isolate the causes and effects.
Does this mean vapes are 100% safe? No. Adults choosing to vape should be clear that those types of health claims can't be made. There are still things to study. Health is a complicated matter and it may take decades of research to fully understand the ramifications of vaping, if there are any. The simple truth is the safest and most healthy thing to breathe is unpolluted air.
back to menu ↑
Will these products help you to quit smoking?
We can't promise you that these vapes on this page will help you quit smoking. Having an addiction to cigarette smoking is a complicated matter. That said, many of the testers on our team had success with products like these that helped them quit. Our recommendations involve first hand-experience with these products, and from our own knowledge of what can benefit a smoker. Most of us have been where you are.
back to menu ↑
How do these products work?
All the starter kits on this page are built on a plug-in-play system. All the vape starter kits presented on this page come with:
A battery device
Prefilled cartridges (w/flavored nicotine vape liquid)
Charge cord
A vape works as a complete system, but lots of vape products are bought component by component. That can give you a lot of freedom, but it can also give a beginner a headache. Mixing and matching vape parts is fun to do after you learn the basics, but not when you're beginning. That's why we advise beginners to stick to pre-packaged vape kits with everything included to ensure an easy introduction.
With these vapes, you don't have to handle the vape liquid (called e-juice, vape juice, or e-liquid). All the guesswork is taken out of the equation. A single purchase of one of these vape starter kits will provide you with everything you need to begin vaping immediately.
back to menu ↑
How to vape and inhale
How you inhale a vape is important! If you inhale it wrong, it may end up making you cough. Or, you may even get an unwanted rush of nicotine. Either way, it wouldn't be a good way to begin.
The best way to inhale a vape is pre-determined by the type of vape it is. There are basically two types: mouth-to-lung vapes which feel like a cigarette draw, and direct-lung vapes which are like taking a deep breath and blowing it out.
Mouth-to-lung vapes
Often these are smaller vapes with high nicotine, like the Vuse Alto and Vibe. When you draw on the device, the airflow will feel restricted — similar to that of a coffee straw. This is designed to mimic the feeling of pulling on a cigarette.
Slowly draw vapor into your mouth for a few seconds
Hold the vapor in your closed mouth for a second
Open mouth and breathe in the vapor to your lungs
Exhale
Direct-lung vapes
Vapes with this type of draw are often larger kits with low nicotine. When you draw on these devices, the airflow you take in will like it's coming from a milkshake straw. These are devices made for making larger clouds of vapor, which is why the nicotine is low.
Inhale the vape deeply to the lungs
Exhale
Cigar puff
One technique some vapers employ is the cigar puff. This takes out a lot of concerns about the lungs. And since nicotine can be absorbed through the mucus membranes, it truly is a viable option. The cigar puff is also a versatile inhale technique. This type of puff can be used with small mouth-to-lung vapes or even direct-lung vapes.
back to menu ↑
Why we chose these products
Vaping should be simple for beginners. Particularly for smokers that need help. And it can be! That's why the products considered for this page had to meet these requirements:
Easy to use
Prefilled
Small form factor
But ask anyone that's ever shopped for a vape; they'll tell you that there's no shortage of products and brands on the market. As a matter of fact, there's an overwhelming number of products – and many of those products are designed for hobbyists.
We made this page for the person that doesn't have the time or interest in vaping as a hobby or sport. But everyone is different. It could be that a refillable device or a more electronically complex vape would work better for you. For everyone else that wants to keep it simple, we're confident in our recommendations.
back to menu ↑
Important for first-time buyers
These products are for adults only
E-cigarettes (vape) products are an alternative to combustible cigarettes and are legally only sold to adults. Depending on where you live, the age to vape could be 18 or 21. If buying online or at a physical location, you will be asked to verify your age.
Nicotine poses a risk for addiction
All vape products are required by law, since 2018, to include a specific label that states: "This product contains nicotine. Nicotine is an addictive chemical." No matter the source — vaping, over-the-counter nicotine replacement therapies, or tobacco — nicotine is considered highly addictive.
Product care
The vape starter kits on this page require little to no maintenance, but they do require certain care to keep them functioning properly.
Store and care for your vape like other electronic devices. This means avoiding contact with water, exposure to extreme temperatures for extended periods, and accidental drops.
Keep your vape clean and away from dust and dirt.
Only use accessories intended for the device.
In the event of damage or malfunction, only have your device serviced by authorized technicians.
Do not try to modify or alter your device as it could void the warranty or possibly cause harm to you or the device.
Battery safety
All the vapes on this page contain a rechargeable lithium-ion battery. As with all lithium-ion batteries contained in electronic devices, proper care is needed to keep the battery working safely and properly. Battery safety is important.
Only charge the device with the included charger, and according to the instruction manual provided with your starter kit.
Never use or store the device at extremely high or low ambient temperatures.
If you find that your device is getting warmer than usual, always contact customer support.
Do not leave the device charging overnight and/or unattended.
Always store your device in a cool and dry place and away from direct sunlight.
Travelling with your vape
Before flying with your vape, always make sure to check for the airline's rules and regulations. According to TSA (Transportation Security Administration), vapes "may only be carried in the aircraft cabin (in carry-on baggage or on your person)".
While travelling, vaping falls under the same rules as smoking. Vaping is prohibited in planes, and failure to comply with that may result in an arrest or even at an emergency landing. You may be able to vape in airports before and after your flight, but only at designated smoking areas.
Vaping in public
The FDA considers vapes to be tobacco products and regulates them accordingly. Although vaping is not smoking, the eyes of the law views them as the same. If smoking is prohibited at a certain establishment, chances are that vaping is not allowed either. Check for smoking areas, and, if you are unsure about the rules of a specific place, always ask.
back to menu ↑
Where to Buy Electronic Cigarettes?
Electronic cigarettes are stepping into a massive market and create a niche within the smoking industry. For over a decade they have been growing in popularity, particularly as many people looking for a safer alternative to conventional tobacco smoking.
At the very beginning of hitting the market, electronic cigarettes were rather scarce. You could only find them through mail order or in mall kiosks.
Today consumers have numerous options for buying cigarettes. Let's look at what the pros and cons of each of these methods are.
Online
The online market has just exploded with electronic cigarettes and various related merchandise. If you want to find a specific e-cig product or some attachment or paraphernalia, then you can find it online. The greatest advantage of buying your e-cigs over the internet is that the assortment is endless.
Which is also part of the problem. With everybody selling online, you can't always be certain about the quality of the product. You can read product reviews to find out details, and at the same time you can't be sure how many of them are from actual customers. You also can't hold the item in your hands and examine it for yourself.
Buying from an auction site like eBay, you have to be extra careful because of the treat to buy a pig in a poke. Your best bet is just to buy directly from trusted suppliers and manufacturers. Sometimes, that is the cheapest way to buy your electronic cigarettes.
Pretty much any company producing electronic cigarettes has some presence online. The best e-cig brands reviewed on this page have a decent return policy that you will be able to take advantage of if necessary.
Retailers
A few retailers are carrying e-cigs nowadays. Wal-Mart and a few other big-box retailers will carry a small selection of some of the biggest names in the business. Many gas stations and convenience stores, particularly those that specialize in smoking predicts, will have a decent variety of the products as well.
The downside here, though, is that the prices can be gouged a bit as retailers try to make their money back. Also, you may not have a big selection to choose from, and you may have to do with what is in stock.
Still, buying your e-cigs from retailers is one of the most convenient ways to get them. You can pick them up when you are topping up your gas or doing your grocery shopping.
Specialty Stores
What was once the purview of mall kiosks is now something that has graduated into full-blown specialty shops. There are entire stores dedicated to electronic cigarettes, and they usually have a great choice encompassing all sorts of manufacturer's products.
The prices at these shops can vary, as some will charge less than big-box retailers since they have very little competition. Others will need to have a high markup to make a profit as they serve a limited clientele. But what doesn't vary – is how rare these stores are. There are parts of the country where specialty electronic cigarette shops are sufficient. You can find numerous ones scattered about the west coast, but in other parts of the country, it may be difficult to locate one in your vicinity.
These shops often carry more than just electronic cigarettes. To appeal to a wider customer base, they may have a variety of smoking product, and their selection is going to increase in states that have legalized marijuana use. Still, they may be the best fortune to find a physical retailer selling the kinds of products for at a reasonable price.
As electronic cigarettes become increasingly recognized as a safer alternative to enjoy smoking, your options will only grow. The market for these products is expanding exponentially.
back to menu ↑
Common Types of E-Cigarettes
Mini E-Cigarettes or Cigalikes
Mini e-cigarettes or cig-a-likes are the types of electronic cigarette that mimic the appearance of a tobacco cigarette. A cig-a-like is the most basic and easy to use type of a vape device. It utilizes a two-piece design. You attach a cartridge to a battery and start vaping. The battery is typically rated at about 280 mAh. A cig-a-like refill cartridge usually has 0.7 ml to 1.0 ml of e-liquid and lasts for 150 to 200 puffs. Cartridges sell for about $2.00 to $2.50 each, and one cartridge lasts one day on average.
Cigalikes come in both disposable and rechargeable formats. Due to their small size, rechargeable cig-a-likes have a shorter battery life. If you buy a cig-a-like starter kit, make sure to get one that comes with more than one battery.
Mid-Size E-Cig Mods
Mid-size e-cigarette mods can be either standard or sub ohm. Devices that would fall into this category will typically have larger batteries of 1500 mAh to 2500 mAh. And instead of a cartridge, they will use a vape tank. With a tank system, you manually swap atomizers and refill with e-liquid as needed.
An example would be the V2 XEO Void. The Void is still small enough to fit in a pocket, yet has enough battery capacity and power for either standard or sub ohm vaping. You can choose your either vaping style with the same device.
Customizable E-Cig Mods
Customizable e-cig mods are devices that allow the user to control the vaping mode and power output. These "vape mods" can range from 30 watts up to 350 watts. The most common type today are dual 18650 battery devices that are capable of about 200 watts of power. These customizable options can enhance the vaping experience, but we recommend beginners to invest in a basic starter kit first.
back to menu ↑
Using Your E-Cig
The first step to using your e-cig is charging the battery. Many companies send out their products with fully charged batteries, but it is always wise to charge your batteries as a first step. Different manufacturers and models employ several ways to charge them. Most vape pens are charged via a mini- or micro-USB port. Some vape devices have a removable battery that requires a separate charger.
That part was easy and obvious! But after you charge the battery, what next? That question depends on which type of e-cig you are using.
How To Use A Cig-a-like
There are two types of cig-a-like batteries, manual and automatic. The automatic battery will detect when you are taking a puff and automatically activate the atomizer. The manual battery has a small button that you press to fire the atomizer. Beyond that distinction, how to use a cig-a-like is easy.
Attach a cartridge to a charged battery
Start vaping
When vapor production ends, switch cartridges
How To Use A Mod
Before getting too far into how to use a mod, we want to express that these are general guidelines. Not all mods are the same. Learning how to vape depends on the device you are using. It is always advised to read the user manual that comes with your e-cig. A mod can have a range of functions from variable voltage, variable wattage, temperature control, and more. The same goes for vape tanks. So tanks have top-fill, some have adjustable airflow, and the list goes on. But here is the basic overview of how to use an e-cig mod:
Remove the base of the atomizer tank (sometimes called a clearomizer)
Insert a fresh atomizer coil into the base of the tank
Fill the tank with e-liquid
Reconnect the base of the tank
Attach the vape tank to the mod
Wait at least five minutes to allow the coil to saturate with e-liquid
Click the fire button five times to turn on the mod
Start vaping
This is how to use a basic mod. Some mods have variable power settings. If you are using a device with variable power, we recommend starting to vape at a low power setting and gradually increasing power. This way you break in a new coil without stressing it. Always vape within the manufacturer's recommended power range.
E-cigarette Tips
Make sure you have an appropriate amount of e-liquid in your tank or clearomizer. If you don't have enough e-liquid for the wick to absorb, you may get a burnt taste from the e-cigarette when you try to vape. Most clearomizers have a line designating how much e-liquid you can fill it with; don't fill a clearomizer over this line, as it can cause the e-liquid to leak.
After the initial filling, leave your atomizer or clearomizer sitting for at least five minutes to allow the wick to get fully saturated with e-juice. It is also advisable to clean your e-cigarette weekly. E-juice can drip into the area where the battery connects to the atomizer, also known as the 510 connection. When this happens, the e-juice can dry up and becomes gunk. This gunk can interfere with the power coursing through the battery to the atomizer. You don't want a weak vape!
A weak flavor and or reduced vapor production is a sign that your coil needs to be replaced. Another sign of a worn coil is a burnt taste when vaping. Coils need to be replaced every one to three weeks on average.
Batteries can also weaken over time. If you are a heavy user, expect your batteries to lose capacity after six months or so. To prolong the life of your e-cigarette batteries, it's recommended to have at least two in the rotation. Having two will give you something to vape with while the other is charging. It also shortens the charging cycles, which is the main reason why batteries weaken.
back to menu ↑
E-Cigarettes FAQ
What are e-cigarettes?
E-cigarettes are portable, handheld electronic devices that create vapor from e-juice, and that vapor is then inhaled into the lungs. Most e-cigarette users (also called vapers) use them to simulate tobacco smoking. Hence, e-cigarettes can be used as a substitute for regular combustible cigarettes, for recreational purposes, or as a hobby (building your own e-cig or creating your own vape juices). E-cigarettes don't emit some of the dangerous chemical usually associated with tobacco, such as carbon monoxide and tar.
What is in an e-cig?
The liquid contained in an e-cigarette is called e-liquid (alternatively, e-juice, vape juice, or just juice within the community). E-juice is made from a handful of ingredients, such as Propylene Glycol, Vegetable Glycerin, various flavorings, and nicotine (can be extracted from tobacco or artificial). Not all vape juices contain nicotine and, for most vapers, the goal is to eliminate nicotine completely after some time.
Do e-cigarettes contain nicotine?
They don't have to, but most e-cigarettes contain nicotine. That is because most vapers use them as a substitute for smoking. E-cigs can contain as little as 3 mg/mL of nicotine, or as much as 50 mg/mL, depending on the vaper's preferences and needs. An important thing to note is that nicotine, while addictive, is not an overly harmful substance (when compared to tar and other chemicals found in combustible cigarettes).
Why does my vape taste burnt?
If you're vape tastes burnt, the problem is in your cartridge or your vape tank. Burnt taste occurs when the cotton around the coil has served its purpose and is now too damaged to be used again. Generally, this means that it's time to replace the coil (vape tank) or the entire cartridge. However, there are some tricks that you can try. If you're vaping at a high temperature, try lowering it and see if the bad taste persists. Also, try using high PG (less viscous than high VG) vape juice. If that doesn't do the trick but you're still reluctant to throw away the cartridge, try cleaning it.
Is vaping worse than smoking cigarettes?
While further studies are definitely needed (and underway), most scientists agree that vaping is not worse than smoking. Of course, inhaling anything other than pure air is not advisable and should be avoided, but most experts note that e-cigs have a great harm reduction potential. UK's Royal College of Physicians notes that 'vaping is unlikely to exceed 5% of the harm from smoking tobacco'.
A more recent review of vaping studies conducted by The Cochrane Library concluded that there are no short-term adverse health effects associated with using e-cigarettes. Another study (Polosa et al), that lasted for 3.5 years and was published in 2017, came to the same conclusion. As of 2019, no deaths have been attributed to vaping, which cannot be said of smoking.
After reading this, you are fully competent to choose the best e-cig of 2019 – or, at least, the best e-cigarette for you! Each of these products has been thoroughly tested by our team of avid vapers, and they all gave them very high marks. Make sure to understand what you're looking for in an e-cig – vapor, flavor, nicotine content, affordability – and choose according to that. No one can make this choice for you, but we do hope that we've made your search for the best electronic cigarette at least slightly more manageable!